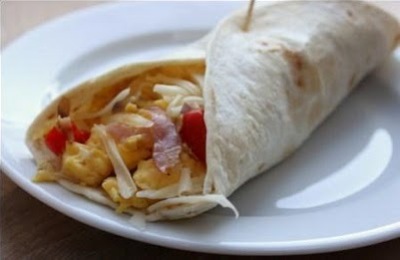 When I was visiting the States this winter, I saw a Tim Horton's commercial for their new breakfast wraps. They looked delicious and inspired me to try a home-made version once back in Denmark–and it turned out great! This flavorful wrap is a hearty breakfast sure to fuel your day!
Ingredients:
1 soft tortilla wrap (soft taco size)
1 Tablespoon butter
2 eggs
2 Tablespoons milk
1/4 cup red bell pepper, diced
1/4 cup green onion, diced
1/4 cup Swiss cheese, shredded
2 thin pieces smoked ham deli meat, diced
Kosher salt and freshly ground black pepper, to taste
Dash Tabasco sauce, if desired
Directions:
Heat a large non-sick skillet over medium high heat. Spray with Pam cooking spray.
Place tortilla in skillet and cook 2 minutes. Using tongs, flip tortilla over and cook additional 2 minutes, until lightly browned.
Remove tortilla from pan and set aside on a serving plate.
Add butter to hot skillet and melt.
Add red bell peppers, green onions, and ham to skillet.
Saute about 5 minutes until veggies are tender.
While peppers, onions and ham are sauteing, whisk eggs and milk together in a bowl. Season with salt and pepper to taste (and add Tabasco, if using).
Pour egg mixture into skillet with peppers, onions and ham.
Cook eggs until desired consistency.
Spoon cooked egg mixture into tortilla.
Top with Swiss cheese.
Fold sides of wrap together and enjoy!

Related Recipes