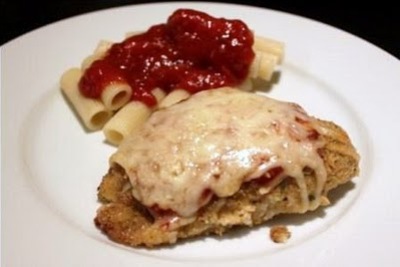 Delicious baked chicken is topped with tomato basil sauce and two cheeses, then served along side pasta. This classic Italian meal is both filling and presentable–perfect for company! I came up with this recipe years ago and it's always a hit when I serve it.
Ingredients:
4 boneless, skinless chicken breasts
1/2 cup plain yogurt
1 Tablespoon cider vinegar
2 fresh garlic cloves, minced
1 cup Progresso Italian Bread Crumbs
1/2 cup freshly grated parmesan cheese, divided
2 Tablespoons extra virgin olive oil
Salt and fresh ground black pepper, to taste
1 cup mozzarella cheese, shredded
1 cup tomato basil pasta sauce, prepared
Pasta for serving, if desired
Directions:
In a large shallow bowl, mix together yogurt, vinegar, and garlic. Add chicken breasts and coat well. Cover bowl tightly.
Place covered bowl with chicken and sauce in refrigerator and marinate 4-6 hours. (This step makes the chicken moist and flavorful!)
Once chicken is marinated, pre heat oven to 400 degrees F.
In a large shallow bowl, mix together bread crumbs, 1/4 cup Parmesan cheese, salt and black pepper to taste.
One at a time, remove chicken breasts from marinate and dredge in bread crumbs. Press breadcrumbs firmly on both sides of chicken to coat well.
Place breaded chicken breasts in a 9×13 baking dish, sprayed with Pam cooking spray.
Drizzle olive oil evenly over breaded chicken breasts.
Place in hot oven and bake uncovered 20 minutes.
Remove from oven and spoon 1/4 cup pasta sauce over each breast.
Then top each breast with 1/4 cup mozzarella cheese and evenly divide remaining parmesan cheese over each breast.
Return to oven and bake uncovered an additional 10 minutes, or until cheese is melted and chicken is cooked thru.
Allow to cool 5 minutes before serving. Serve with pasta and tomato basil sauce, if desired.

Related Recipes