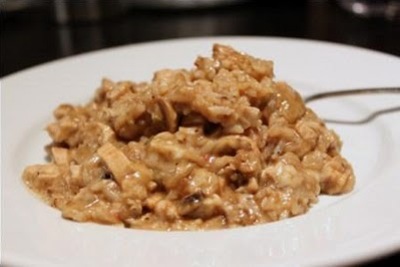 Here's a dressed up casserole, made with delicious, high quality ingredients. It's so good!!! And the rotisserie chicken makes it a snap to throw together. One note about using heavy cream–I never used to cook with it until moving to Europe. I always worried about the calories. But, if you watch your portion size, it's not a diet-busting ingredient. In fact, I highly recommend cooking with it–you can't match the creamy richness it adds to a dish.
Ingredients:
2 Tablespoons butter
10 oz. fresh button mushrooms, sliced
2 fresh garlic cloves, minced
1/4 cup white onion, diced
2 Tablespoons all-purpose flour
2/3 cup marsala wine
1 cup heavy cream
2 cups chicken stock
1 teaspoon dried Italian herbs
Kosher salt and freshly ground black pepper, to taste
1 cup long-grain rice, un-cooked
2 cups (packed) rotisserie chicken, diced
3 Tablespoons freshly grated parmesan cheese
Directions:
Preheat the oven to 350 degrees F.
Spray 9×13 glass baking dish with Pam cooking spray. Set aside.
In a large non-stick skillet, heat butter over medium-high heat until just melted.
Add onions and mushrooms to skillet and cook, stirring occasionally, until softened, about 5 minutes.
Add garlic and cook 1 minute, until fragrant.
Sprinkle flour on top, stir and cook for 1 minute.
Stir in marsala and cream. Simmer, stirring occasionally, until slightly thickened, about 3 minutes.
Stir in 2 cups chicken stock, dried Italian herbs, salt and pepper to taste. Remove from heat.
Spread rice evenly in prepared baking dish.
Top with chicken.
Spoon mushroom mixture on top.
Cover baking dish tightly with foil and bake until bubbly, about 40 minutes.
Remove from oven, discard foil, and sprinkle parmesan on top.
Bake an additional 5 minutes.
Allow to set 5 minutes before serving.

Related Recipes