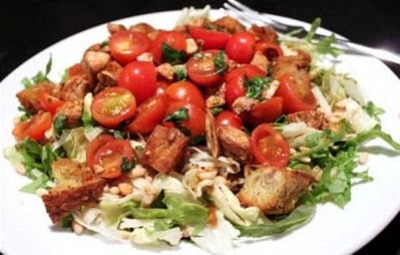 This KP original recipe is inspired by a salad served at Champs restaurant in Michigan. However, it's even better made at home because you can use fresh produce and high quality ingredients for outstanding flavor! Shop at your local farmers market or specialty produce shop for the veggies and cheese. Swing by your local bakery for the bread. And spend extra money on high quality extra virgin olive oil and balsamic vinegar (Williams-Sonoma has a good selection in the States). You will notice a huge difference in the outcome of this salad! Recipe makes enough salad for two servings.
Ingredients:
For croutons–
4 cups crusty Italian bread, cut into 1/2-inch cubes
1/4 cup extra virgin olive oil
1 packet dry Good Seasons Italian Dressing (only use the seasoning packet, do not make the dressing)
For salad–
2 cups iceberg lettuce, chopped
1 cup fresh arugula, rinsed and torn into bite-sized pieces
1 cup cherry tomatoes, halved
1 cup fresh mozzarella cheese, cubed
1/4 cup fresh basil leaves, chopped
1/4 cup freshly grated parmesan cheese
3 Tablespoons pine nuts
Extra virgin olive oil, to taste (high quality is highly recommended!)
Balsamic vinegar, to taste (high quality is highly recommended!)
Freshly ground black pepper and kosher salt, to taste
Directions:
To make croutons, pre heat oven to 425 degrees F. Toss bread cubes in large bowl with olive oil and dry Good Seasons Italian Dressing packet. Mix until all bread is evenly coated in oil and seasoning. Spray cookie sheet with Pam cooking spray and spread bread cubes evenly onto pan. Bake 5-8 minutes, then stir in pan. Bake another 5 minutes until golden brown. Remove from oven and set aside.
While croutons are baking, place tomatoes, basil, and mozzarella in a small glass bowl. Add enough olive oil and balsamic vinegar to coat and set aside to marinate.
To make salad, toss iceberg and arugula in a large bowl. Lightly drizzle with olive oil and balsamic vinegar. Add salt and pepper to taste. Divide lettuce onto two serving plates. Evenly divide tomato/mozzarella mixture and place on top lettuce on two plates. Add half the pine nuts, parmesan, and croutons onto each plate.
Serve immediately.

Related Recipes