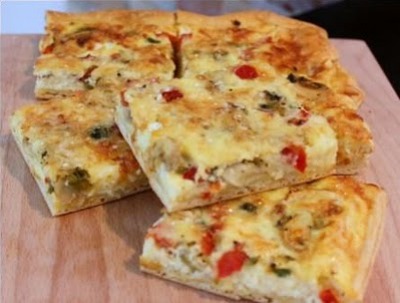 I wanted to try a twist on the typical breakfast quiche, so I came up with this "pizza" recipe. I served it to friends this morning and got two thumbs up! It's layers of fresh veggies, two cheeses, and eggs over pizza crust. It even bakes up sturdy enough to eat with your hands–just like pizza

Ingredients:
Pizza Dough
(recipe can be found separately on this site)
1 Tablespoon butter
1/2 cup red bell pepper, diced
1/2 cup green onions, diced
10 button mushrooms, cleaned and sliced
1 large ripe tomato, diced
6 eggs
1/4 cup heavy cream
Garlic salt and freshly ground black pepper, to taste
2 cups mozzarella cheese, shredded
1/4 cup parmesan cheese, freshly grated
Directions:
Pre heat oven to 425 degrees F.
Spray 12-inch pizza pan with Pam cooking spray.
Press prepared pizza crust into pizza pan, crimping edges to form a deep rim.
Pre-bake crust 5 minutes. (With no toppings.)
In a large nonstick skillet, heat butter over medium heat.
Add red peppers, green onions and mushroom to skillet and saute 8 minutes, until tender.
Remove skillet from heat and stir in diced tomatoes.
Season veggies with garlic salt and pepper. Set aside.
In a bowl, whisk together eggs and cream. Set aside.
Remove crust from oven and top with mozzarella cheese.
Spread veggie mixture over mozzarella cheese.
Carefully pour egg mixture over veggies.
Sprinkle parmesan cheese on top.
Bake 15-20 minutes, or until crust is lightly browned and eggs are set.
Cool 5 minutes, then slice.

Related Recipes