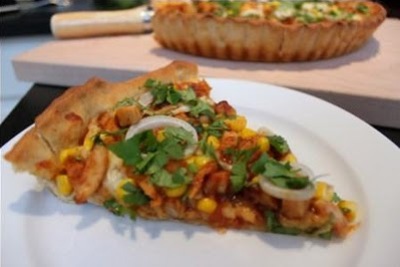 When I was visiting my friend Marsha in Michigan, she ordered us an amazing BBQ chicken pizza from her local pizzeria for dinner one night. And since I can't get them to deliver to me in Denmark, I had to re-create it at home. I added cilantro and corn for some extra color and flavor, and have to say it turned out delicious! Now if only Marsha were here to eat it with me…
Ingredients:
Pizza Dough (recipe can be found separately on this site)
1 1/2 cup cooked rotisserie chicken, chopped
3/4 cup bottled barbecue sauce, hickory honey flavor, divided (I prefer Bullseye brand because it has no high fructose corn syrup)
1 cup smoked Gouda cheese, shredded
1 cup mozzarella cheese, shredded
1 small red onion, sliced into rings
1/3 cup frozen corn kernels, thawed
1/4 cup fresh cilantro, chopped
Directions:
Pre heat oven to 425 degrees F.
Spray 12-inch pizza pan with Pam cooking spray.
Place pizza crust in pan, pressing around edges to form a rim.
Pre-bake crust 5 minutes.
Remove crust from oven and set aside.
In a small bowl, toss chopped chicken with 1/4 cup barbecue sauce. Set aside.
Spread remaining barbecue sauce evenly over pizza crust.
Sprinkle Gouda and mozzarella cheeses evenly over sauce.
Top cheese evenly with chicken.
Top chicken evenly with onions and corn.
Place pizza in oven and bake 15-20 minutes, until crust is light brown and cheese is bubbly.
Remove pizza from oven and sprinkle evenly with cilantro.

Related Recipes