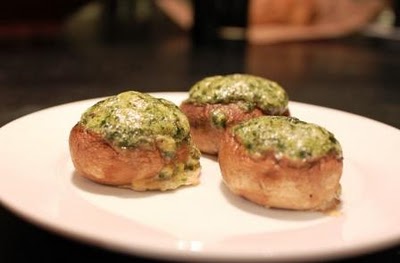 This is an old favorite of mine! I love to make these stuffed mushrooms as a first course when serving an Italian meal. The fresh mushrooms are packed with cheesy-spinach goodness and melt in your mouth! This recipe comes from a magazine, but it's so long ago, I don't remember which one.
Ingredients:
1 (10 oz.) package frozen chopped spinach
1/2 lb. Havarti cheese
1/2 cup freshly grated parmesan cheese
3 eggs
2 Tablespoons milk
1 teaspoon garlic powder
1 teaspoon dried oregano
1/2 teaspoon ground nutmeg
Kosher salt and freshly ground black pepper, to taste
2 lbs. (about 30) medium-size white mushrooms
Directions:
Pre heat oven to 375 degrees F.
Thaw frozen spinach and squeeze out all excess water. Set aside.
With a damp paper towel, gently wipe mushrooms clean. Remove stems and discard.
Place mushroom caps on a large cookie sheet.
Spray mushroom caps with Pam cooking spray and lightly season with salt. Set aside.
In a food processor, place spinach, Havarti, parmesan, eggs, milk, garlic powder, oregano, nutmeg, salt and pepper to taste.
Pulse until cheese is finely chopped and ingredients are well blended.
Fill each mushroom cap with 1 level Tablespoon of spinach mixture.
Bake 25 minutes, or until mushrooms are tender and filling is set.
Serve warm.

Related Recipes