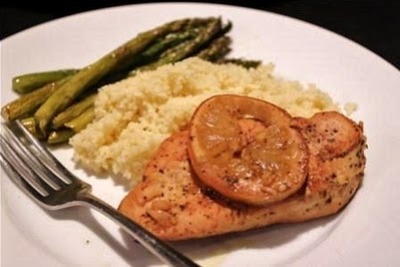 This fix-it-and-forget-it recipe is incredible! Prepare the chicken in the morning, then let it slow cook all day for perfectly tender meat. This garlicky, lemony chicken goes well with couscous and roasted asparagus. This recipe originally came from my friend Kirsten, though I've changed a few things.
Ingredients:
4-6 boneless, skinless chicken breasts
2 Tablespoons butter
Lemon pepper seasoning, to taste
Herbs de Provence seasoning, to taste
1/2 cup white wine
1/4 teaspoon chicken bouillon granules
4 Tablespoons fresh lemon juice (do not use bottled)
1 lemon
4 fresh garlic cloves, minced
Directions:
Rinse and pat dry chicken breasts.
Coat both sides of breasts with lemon pepper and herbs de Provence, to taste.
In a large non-stick skillet, heat butter over medium-high heat.
Brown seasoned chicken breasts in butter for 3-5 minutes.
Turn over and brown other side for additional 3-5 minutes.
Place browned chicken breasts in slow cooker.
Slice lemon and top chicken breasts with lemon slices.
In the same skillet, mix wine, lemon juice, garlic and bouillon.
Bring mixture to a boil.
Pour mixture over chicken breasts in slow cooker.
Cover and cook on low 6 hours.

Related Recipes