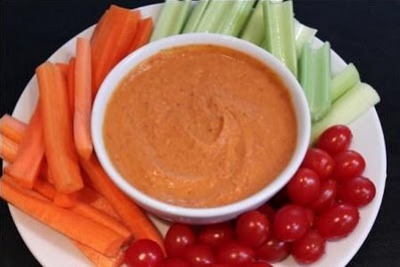 This heart-healthy bean dip is a twist on the classic hummus. It's super flavorful and easy to make. Serve it with fresh veggies or pita wedges for a great appetizer! This recipe comes from Cooking Light magazine.
Ingredients:
1/4 cup chopped fresh basil
1 teaspoon balsamic vinegar
1 (16 oz.) can cannellini beans, rinsed and drained
1 (7 oz.) bottle roasted red bell peppers, drained
2 large garlic cloves
2 Tablespoons extra virgin olive oil
1/2 teaspoon kosher salt
Freshly ground black pepper, to taste
Directions:
Place first 5 ingredients in a food processor and process until smooth.
With processor on, slowly add oil through food chute.
Stir in salt and black pepper.
Cover and refrigerate at least one hour before serving.

Related Recipes