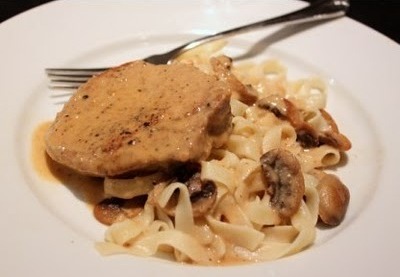 I tried this recipe for the first time last night and my family and I loved it! My husband said, "This tastes like a restaurant meal!" A pretty high compliment, I'm guessing

This pork cooks up tender and juicy and the rich, buttery cream sauce compliments it perfectly. Serve over egg noodles to soak up all the cajun cream sauce. My sister-in-law Amy gave me the recipe.
Ingredients:
6 thick-cut boneless pork chops
Freshly ground black pepper, to taste
3 Tablespoons butter
1 small yellow onion, chopped
3/4 cup mushrooms, sliced
3 fresh garlic cloves, minced
1 cup chicken broth
2 bay leaves
1 cup sour cream
1 teaspoon paprika
1 Tablespoon cajun seasoning (I used Emeril's Bayou Blast Essence)
Egg noodles for serving, prepared according to package directions
Directions:
In a large non-stick saute skillet, melt butter over medium high heat.
Season pork chops with pepper and add to skillet. Brown chops 5 minutes per side.
Remove chops to serving plate and set aside.
To same skillet, add chopped onion and mushrooms.
Saute until tender, about 5 minutes.
Add garlic and saute 30 seconds, until fragrant.
Add pork chops back to skillet.
Lower heat and add bay leaves and chicken broth.
Cook covered over low heat until pork is cooked thru, about 45 minutes.
Transfer pork to serving plate and cover to keep warm.
Increase heat to high and boil juices in skillet until reduced by half.
Lower heat and stir in sour cream, paprika and cajun seasoning.
Heat sauce 3 minutes, but NO NOT BOIL.
Transfer pork back into pan and coat with sauce.
Serve over egg noodles.

Related Recipes