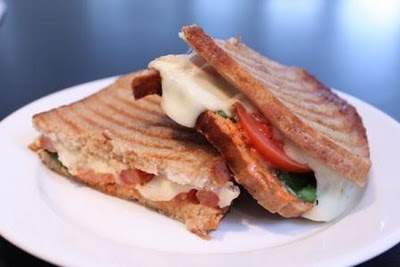 My cousin-in-law Julie requested a new recipe from me–she wanted an update to the classic grilled cheese sandwich. While I love the classic, I accepted her challenge with glee! And here's the result. Fresh ingredients, bold flavors, and a sandwich with Italian flair. I've listed the ingredients below without specific measurements, so use amounts according to taste preferences. I cooked this in my grill pan for panini-looking toast, but any skillet will do. Hope you like this one Julie

Ingredients:
2 pieces fresh dense bread, thinly sliced (rye or sourdough preferred)
Butter
Sundried tomato pesto, prepared
Fresh basil leaves
Fresh ripe tomato, sliced
Fresh mozzarella, sliced
Kosher salt
Fresh ground black pepper
Balsamic vinaigrette salad dressing, bottled
Directions:
Heat skillet over medium heat.
Season tomato slices with salt and pepper.
Butter one side of each slice of bread.
On opposite side of 1 piece of buttered bread, spread sundried tomato pesto.
Place one piece of bread (butter-side down) into hot skillet.
Top with basil leaves.
Top with tomato slices.
Top with mozzarella slices.
Drizzle small amount of balsamic vinaigrette dressing.
Top with second piece of bread, butter-side facing up.
Cook 5-7 minutes.
Using a large spatula, carefully turn sandwich over.
Cook additional 5-7 minutes, or until bread is golden brown and cheese is melted.
Remove from skillet with spatula and allow to set 5 minutes before slicing.

Related Recipes