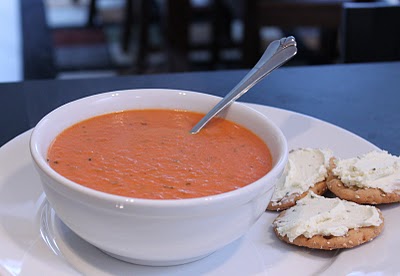 Never again will you eat a can of tomato soup once you try this recipe! My friend Meg gave it to me and I'm so glad she did. It's easy and delicious! The roasted tomatoes, fresh basil, and cream make this soup rich and flavorful. Plus it's ready in about an hour. Serve with a hearty cracker, spread with Boursin cream cheese. Yum!
Ingredients:
2 (14-ounce) cans chopped tomatoes
3/4 cup extra virgin olive oil
Kosher salt and fresh ground black pepper, to taste
2 stalks celery, diced
2 small carrots, diced
1 yellow onion, diced
4 cloves garlic, minced
2 cups chicken broth
2 Tablespoons butter
1/3 cup fresh basil leaves, chopped
3/4 cup heavy cream
Directions:
Pre heat oven to 450 degrees F.
Strain canned tomatoes, reserving the juices.
Spread chopped tomatoes onto baking sheet and season with salt and pepper to taste.
Drizzle tomatoes with 1/4 cup olive oil and roast in oven until caramelized, about 15 minutes.
Meanwhile, in a saucepan, heat remaining olive oil, plus 2 Tablespoons butter, over medium heat.
Add diced celery, carrots, onions and garlic to saucepan. Cook until softened, about 10 minutes.
Add roasted chopped tomatoes, reserved tomato juices and chicken broth to saucepan.
Simmer until vegetables are very tender, about 15-20 minutes.
Add basil and cream to saucepan. Cook 3 minutes, but do not boil.
Remove from heat and puree soup with a hand held immersion blender until smooth.
Serve immediately.

Related Recipes