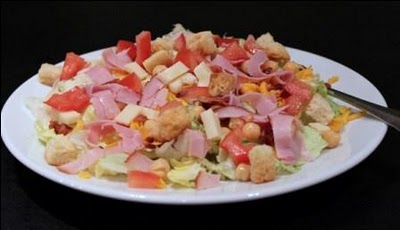 Around my house, we eat a big salad for dinner at least twice a month. It's a great way to use up veggies, cheese, and leftover meat from the week. Tonight we had make-your-own chef salad. This isn't really a recipe as much as a meal idea. I've listed my preferred ingredients for a chef salad, but there are endless possibilities. So get creative and enjoy a big salad for dinner tonight!
Ingredients:
Iceberg lettuce, chopped
Sharp cheddar cheese, shredded
Swiss cheese, diced
Freshly cooked bacon, crumbled
Honey ham, sliced
Green onion, diced
Fresh ripe tomato, diced
Garbanzo beans
Croutons
Hidden Valley Ranch Dressing
Directions:
Toss everything together in a large bowl and enjoy!

Related Recipes