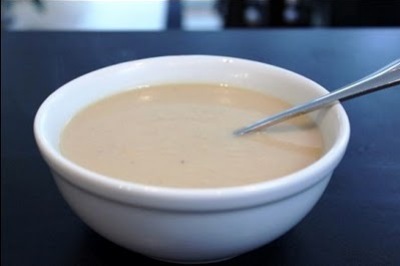 Here it is–my Aunt Lori's famous cauliflower soup recipe. And it's famous for a reason–it's scrumptious! (I only tweaked a few things Aunt Lori!) This creamy soup is easy to make and ready in under an hour. If you want an extra burst of flavor, top each bowl of soup with freshly chopped chives and crumbled blue cheese. Serve with fresh crusty bread.
Ingredients:
2 Tablespoons extra virgin olive oil
1 small yellow onion, diced
4 cloves fresh garlic, minced
2 celery stalks, diced
2 lbs. cauliflower (one large head), stemmed and cut into florets
4 cups vegetable broth
1 cup sharp cheddar cheese, shredded
1/4 cup heavy cream
Kosher salt and freshly ground black pepper, to taste.
Directions:
Heat olive oil in a large soup pot, over high heat.
Add onion and celery and saute until tender, about 5 minutes.
Add garlic and saute 1 minute.
Add cauliflower florets and vegetable stock. Bring to a boil.
Reduce heat and simmer until cauliflower is tender, about 25 minutes.
Remove from heat.
Puree the soup using a hand held immersion blender, until creamy consistency.
Whisk in heavy cream and cheddar cheese until completely incorporated.
Return soup to medium heat and cook until heated through, about 3 minutes. Do not boil.
Season with salt and pepper, to taste.
Top with chopped chives and blue cheese crumbles, if desired
Serve immediately.

Related Recipes