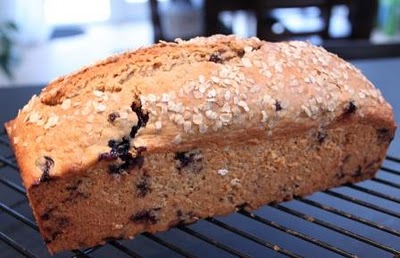 Here's a heart-healthy sweet bread from Betty Crocker. Packed with oats and blueberries, it's low in fat and only 160 calories per slice. A great alternative to high calorie muffins from the bakery. Tasty too!!
Ingredients:
2/3 cup light brown sugar, packed
3/4 cup milk
1/2 cup vegetable oil
2 eggs
2 1/4 cups all-purpose flour
1 cup quick-cooking oats
3 teaspoons baking powder
1 teaspoon ground cinnamon
1 teaspoon grated lemon peel
1 Tablespoon fresh lemon juice
1/4 teaspoon salt
1 cup fresh blueberries
Directions:
Pre heat oven to 350 degrees F.
Spray bottom only of 8 or 9-inch loaf pan with Pam cooking spray. Set aside.
In large bowl, mix brown sugar, milk, oil and eggs with spoon.
Stir in remaining ingredients (except blueberries) and mix with a spoon for 30 seconds.
Fold in blueberries.
Pour into pan.
Sprinkle with additional oats, if desired.
Bake 45 to 55 minutes or until toothpick inserted in center comes out clean.
Cool 10 minutes in pan.
Loosen sides of loaf from pan and remove from pan to wire rack.
Cool completely before slicing.
Wrap tightly and store at room temperature up to 4 days, or refrigerate up to 10 days.

Related Recipes