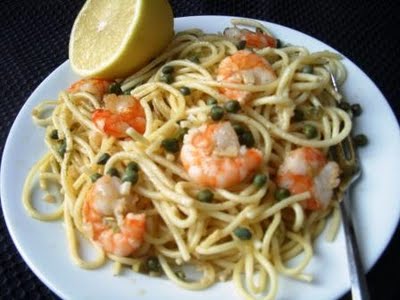 I created this dish while living in California and have been making it for years. Cooking with shrimp used to make me nervous, but the more I do it, the more comfortable I get. The key is to not over cook the shrimp, or they get rubbery. This pasta dish is full of garlic, lemon, and butter. Enjoy it with a chilled glass of white wine.
Ingredients:
30 raw medium-size shrimp
1/2 box thin spaghetti noodles
1/3 cup green onions, chopped
4 fresh garlic cloves, minced
Juice of 1 fresh large lemon
Zest from 1/2 fresh lemon
2 Tablespoons extra virgin olive oil
2 Tablespoons butter
3/4 cup white wine
1/3 cup chicken stock
2 Tablespoons capers
Fresh ground black pepper, to taste
Freshly grated parmesan cheese, for serving
Directions:
Cook thin spaghetti according to "al dente" directions on box. (Be careful not to over cook pasta–it will continue cooking later.)
While spaghetti is cooking, clean, peel and devein shrimp. Remove tails. Set aside.
In a large non-stick saute pan, heat olive oil and melt butter over medium high heat.
Add minced garlic and green onions to pan. Cook 1-2 minutes, until fragrant.
Add shrimp to pan and cook 1-2 minutes per side. (Shrimp will turn pink and begin to curl.)
Once shrimp are cooked, remove from pan and set aside in a bowl.
Add wine to hot pan and bring to a boil. Boil over high heat until reduced by half, about 3-5 minutes. Stir often.
Add lemon juice, lemon zest and chicken stock to pan. Boil on high for 4 minutes.
Add shrimp, cooked pasta, and capers to pan. Stir to combine with sauce.
Cook additional 5 minutes, or until sauce begins to absorb. Remove from heat–sauce will continue to absorb.
Season with black pepper and stir.
Serve immediately with freshly grated parmesan cheese, to taste.

Related Recipes