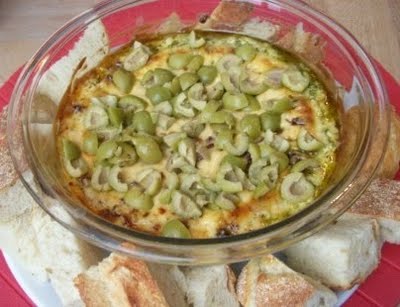 Gourmet ingredients such as sun-dried tomatoes and basil pesto, make this a fantastic holiday appetizer! I brought this to a Christmas party last year and it was a huge hit. Serve this dip hot from the oven with slices of toasted baguette bread. I found this recipe in a Pampered Chef cook book.
Ingredients:
1 (8 oz.) package cream cheese, softened and divided
1/4 cup prepared basil pesto
1/2 cup sun-dried tomatoes, packed in oil, drained well
1/4 cup freshly grated parmesan cheese
1 (8 oz.) container sour cream
1 fresh garlic clove, minced
2 teaspoons dried Italian herb seasoning
1/4 cup pitted green olives, chopped
Toasted baguette bread slices, for serving
Directions:
Pre heat oven to 350 degrees F.
In a bowl, whisk together half the cream cheese with basil pesto.
Spread pesto mixture over bottom of small baking dish. Set aside.
Blot excess oil from sun-dried tomatoes using paper towel. Dice tomatoes. Set aside.
In a clean bowl, mix together remaining cream cheese, sour cream, diced sun-dried tomatoes, parmesan cheese, garlic, and Italian herb seasoning. Mix well.
Evenly spread sun-dried tomato mixture on top of pesto mixture in baking dish. Do not stir.
Bake 25 minutes, or until hot and bubbly.
Remove from oven and sprinkle chopped olives on top. Do not stir.
Serve with bread.

Related Recipes