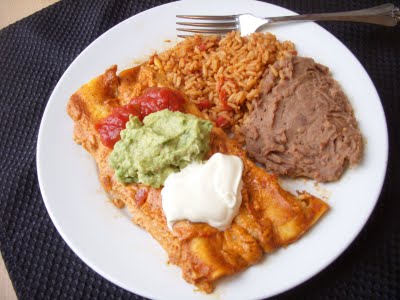 These creamy, cheesy, spicy enchiladas are fantastic! They differ from traditional enchiladas by using cream of chicken soup and flour tortillas, so give them a try for something new! Serve with refried beans and rice for a complete Mexican meal. This recipe comes from campbellkitchen.com.
Ingredients:
1 can condensed cream of chicken soup
1 cup sour cream
1 cup salsa (use hot for extra spice)
2 teaspoons chili powder
2 cups cooked chicken, diced
1 cup cheddar cheese
8 flour tortillas (soft taco size)
Avocado, additional sour cream and salsa for serving
Directions:
Pre heat oven to 350 degrees F.
Spray 9×13 baking dish with Pam cooking spray. Set aside.
In a bowl, whisk together soup, sour cream, salsa, and chili powder.
In a separate bowl combine chicken and cheese. Add 1 cup soup mixture and mix to combine.
Spread about 1/4 cup chicken mixture down center of each tortilla.
Roll up and place seam side down in prepared baking dish.
Pour remaining soup mixture over enchiladas, covering completely.
Cover baking dish with tin foil.
Bake 50-60 minutes, or until hot and bubbly.
Serve with avocado, additional sour cream and salsa, if desired.

Related Recipes