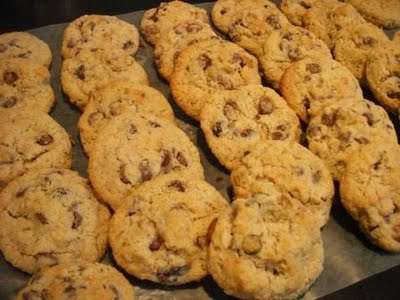 Here's a cookie that's so sweet and rich it tastes like you're eating a candy bar. These are my absolute favorite chocolate chip cookies!! Bake up a batch next time you have a sweets craving and you won't be disappointed. This recipe makes 3 dozen cookies, and came from my sister-in-law Amy–thanks Amy!
Ingredients:
1 1/2 cup graham cracker crumbs, finely crushed
1/2 cup all-purpose flour
2 teaspoons baking powder
1 can (14 oz.) sweetened condensed milk (NOT evaporated milk)
1/2 cup butter, softened
1 1/3 cup sweetened flaked coconut
1 bag (12 oz.) chocolate chips
1 cup walnuts, chopped
Directions:
Pre heat oven to 375 degrees F.
In a small bowl, whisk together graham cracker crumbs, flour and baking powder. Set aside.
In a large bowl beat together sweetened condensed milk and butter, using an electric mixer. Beat until well combined, about 3 minutes.
Gradually add flour mixture to butter mixture and beat for additional 2 minutes until completely incorporated.
Using a spoon, stir in coconut, chocolate chips, and walnuts.
Drop dough (by about 1 Tablespoon each) onto un-greased cookie sheet.
Bake 8-10 minutes, until lightly browned on top. (Cookies will be soft when done baking.)
Remove from oven and let set on cookie sheet for 3 minutes.
Remove from cookie sheet using metal spatula and cool in a single layer on wax paper.
Store loosely, at room temperature in a cookie jar for up to 4 days.

Related Recipes