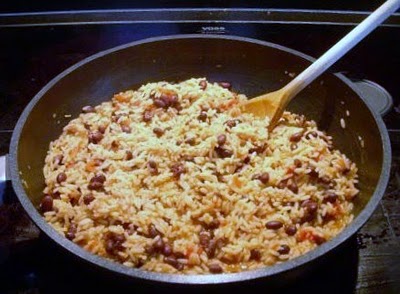 Toss out your boxed rice mixes and try this delicious recipe–it's easy and tasty! I serve this as a side dish with fajitas or enchiladas. But it could also make a great vegetarian meal served with sauteed bell peppers and onions. This recipe make enough for 4-6 servings.
Ingredients:
2 teaspoons extra virgin olive oil
1 Tablespoon minced dried onions
1 1/2 cups uncooked long-grain rice
1 teaspoon ground cumin
1 teaspoon chili powder
6 ounces canned diced tomatoes
1 cup black beans, drained and rinsed
3 cups water
Kosher salt, to taste
Directions:
In a large deep skillet or saute pan, heat oil over medium heat.
Add minced onion and rice. Stir to coat with oil.
Mix in cumin, chili powder, tomatoes, beans, water and salt. Stir to combine.
Bring to a boil. Cover and reduce heat to low.
Simmer, covered, 25-30 minutes or until rice is tender. Stir occasionally.

Related Recipes