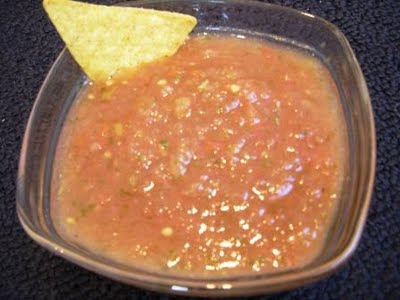 No store bought salsa can match the fresh taste of home-made. So next time you're in the mood for Mexican, blend up a batch of this and break out the tortilla chips!
Ingredients:
4 cups fresh ripe tomatoes, diced
1 small purple onion, diced
1/2 cup (packed) fresh cilantro, chopped
1 can diced green chilies (substitute jalapenos for a spicier salsa)
Juice from 1/2 fresh lemon
Garlic salt and fresh ground black pepper, to taste
Dash of Tabasco sauce
Directions:
Combine all ingredients in a large bowl.
Using a hand-held blender, or food processor, pulse mixture until desired consistency.
Refrigerate 4 hours (or longer) for fuller flavor. This salsa is even better the next day, so make ahead if time allows.

Related Recipes