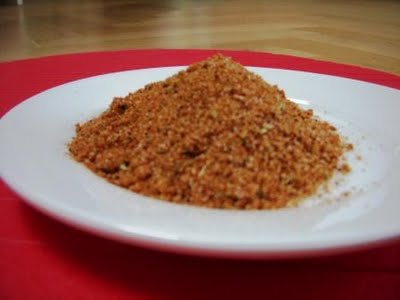 I realize there are many packaged fajita mixes at the grocery store–however, this spice blend is my absolute favorite! This rub has the perfect balance of sweet and spicy. And chances are you already have all the ingredients in your pantry. This recipe makes about 2/3 cup, for about 4 lbs. of meat. Store leftover spice rub in a tightly sealed container for up to 3 months.
Ingredients:
1/4 cup packed brown sugar
1 Tablespoon ground sweet paprika
1 Tablespoon kosher salt
1 Tablespoon chili powder
2 teaspoons garlic powder
2 teaspoons onion powder
1 teaspoon cumin
1 teaspoon oregano
Directions:
Mix above spices together until well blended.
Generously rub spice mixture on both sides of raw chicken, beef, or pork.
Grill seasoned meat as desired.
To make fajitas, wrap cooked meat in a warm tortilla shell and top with sauteed bell peppers, sauteed onions, sour cream and salsa.

Related Recipes