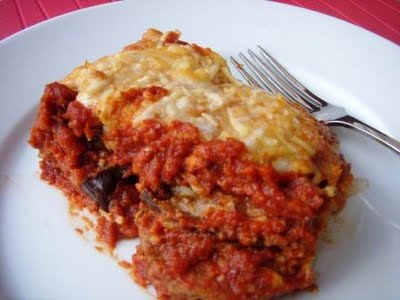 I love this recipe because the eggplant is baked, rather than fried. It's then layered with tomato sauce and cheese, and baked until bubbly and delicious! I found this recipe in Everyday Food magazine. It is a bit labor intensive, but think of it as a labor of love

Ingredients:
2 large eggs
1 cup Progresso Italian Style Breadcrumbs
Garlic salt and fresh ground black pepper, to taste
1 cup freshly grated parmesan cheese, divided
2 large eggplants, peeled and sliced into 1/2-inch rounds
6 cups tomato sauce (either store-bought or homemade)
1 1/2 cup mozzarella cheese, shredded
Directions:
Pre heat oven to 375 degrees F.
Spray 2 cookie sheets with Pam cooking spray. Set aside.
In a wide shallow bowl, whisk together eggs and 2 Tablespoons water.
In another bowl, combine breadcrumbs, 3/4 cup parmesan cheese, garlic salt and black pepper.
Dip eggplant slices in egg mixture, letting excess drip off. Then dredge in breadcrumb mixture, coating well.
Place coated slices on baking sheet and bake until golden brown on bottom, 20-25 minutes.
Turn slices over and bake an ADDITIONAL 20-25 minutes.
Remove eggplant from oven and raise oven heat to 400 degrees F.
In a 9×13 baking dish, spread 2 cups tomato sauce on bottom. Arrange half the eggplant in dish, on top of sauce. Cover with 2 cups sauce, then 1/2 cup mozzarella.
Repeat with remaining eggplant, sauce, and mozzarella.
Top with remaining 1/4 cup parmesan cheese.
Bake, uncovered, 20-25 minutes–until sauce is bubbling and cheese is melted.
Let stand 5 minutes before serving.

Related Recipes