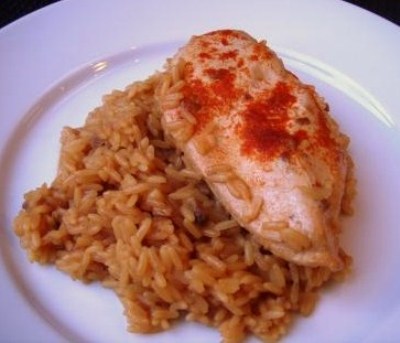 Here's a new twist on the standard chicken and rice bake. The flavors bake up sweet and savory and delicious! There are never leftovers in my house when I make this. Serve with Toasted Sesame Green Beans for a great meal. I found this recipe in Family Circle magazine years ago.
Ingredients:
3/4 cup uncooked regular long-grain white rice
4 skinless, boneless chicken breasts
1 can Campbell's condensed golden mushroom soup
3/4 cup water
2 Tablespoons soy sauce
2 Tablespoons cider vinegar
2 Tablespoons honey
1 teaspoon garlic powder
Ground paprika, to taste
Directions:
Pre heat oven to 375 degrees F.
Spray 2-quart baking dish with Pam cooking spray.
Evenly spread rice in bottom of prepared baking dish.
Place chicken breasts side-by-side on top of rice.
In a bowl, whisk together soup, water, soy sauce, vinegar, honey, and garlic powder until well combined.
Pour soup mixture over chicken breasts in baking dish. DO NOT STIR.
Sprinkle paprika, to taste, over chicken and sauce.
Cover dish and bake 45 minutes, or until bubbling and almost all liquid is absorbed and chicken is cooked thru.

Related Recipes