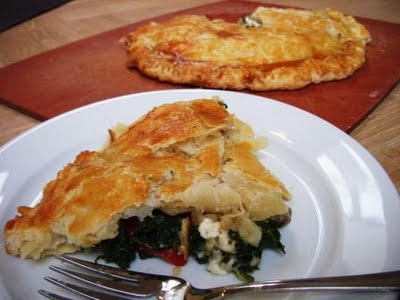 Here's a recipe that's sure to impress–it looks like way more work than it really is. (I pulled this from a magazine years ago, but don't know which one.) The delicious combo of spinach, mushroom, red pepper and cheese reminds me of pizza, but the pie crust makes this so much better! Serve this rustic tart warm, with a side salad–perfect for a casual lunch with friends!
Ingredients:
1 Tablespoon extra virgin olive oil
2 fresh garlic cloves, minced
1 10-oz box frozen spinach–thawed, drained, and squeezed of all excess moisture
Garlic salt and fresh ground black pepper to taste
2 ready-made pie crusts (such as Pillsbury)
1 cup cottage cheese
10 small fresh mushrooms, thinly sliced
1 12-oz jar roasted red peppers, drained and chopped
1 Tablespoon fresh thyme leaves (or 1 teaspoon dried thyme)
1/3 cup freshly grated Parmesan cheese
1 egg, beaten with a fork
Directions:
Pre-heat oven to 400 degrees F.
Place olive oil in a medium skillet, over medium high heat.
Add garlic to hot olive oil and cook and stir for 1 minute.
Add spinach to skillet and saute gently for 2 minutes.
Remove skillet from heat. Season with garlic salt and black pepper to taste. Set aside.
Coat large baking sheet with Pam cooking spray.
Unfold 1 pie crust onto baking sheet. Spoon spinach mixture evenly over crust, leaving 1-inch border around the edge.
Layer cottage cheese, mushroom slices, and chopped red peppers over spinach.
Sprinkle with thyme, Parmesan cheese, and additional black pepper (if desired).
Brush half the egg around crust's 1-inch border.
Place second crust on top and crimp edges to seal.
Brush remaining egg evenly over top crust and edges to seal.
Cut a slit in top crust to allow steam to escape.
Bake 30-35 minutes, until golden brown.
Cool on rack 5 minutes before serving.

Related Recipes