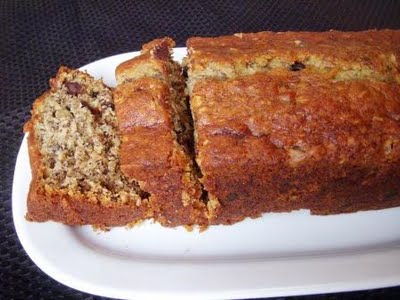 Here's a banana bread recipe with a twist–a delicious twist! This sweet, moist bread is packed with coconut, chocolate chips, and walnuts. I brought it to a playgroup today and it was a hit

Ingredients:
1 cup butter, melted
1 1/2 cup granulated sugar
2 eggs
1 teaspoon vanilla extract
1 teaspoon rum extract
2 cups ripe banana, mashed with a fork (about 5 or 6 medium size bananas)
2 3/4 cups all-purpose flour
1 1/4 teaspoon baking soda
1 cup sweetened coconut, flaked
1 cup dark chocolate chips
1 cup walnuts, chopped
Directions:
Pre heat oven to 350 degrees F.
Spray two loaf pans (8-in x 4-in x 2-in) with Pam cooking spray. Set aside.
In a small bowl, whisk together flour and baking soda. Set aside.
In a large bowl combine melted butter and sugar. Mix well.
Add egg and vanilla and rum extracts to sugar mixture. Beat on high speed with electric mixer about 3 minutes, until thickened.
Stir mashed bananas into sugar mixture.
With electric mixer on low, gradually add flour mixture to sugar mixture. Beat until just combined. (Do not over mix or bread will be tough.)
Fold in coconut, chocolate chips, and walnuts.
Pour batter evenly into prepared pans.
Bake 65-75 minutes or until a toothpick inserted in the center comes out clean. If tops brown too quickly, loosely cover with tin foil and continue baking.
Cool in pans 10 minutes, then remove to wire racks and cool completely.

Related Recipes