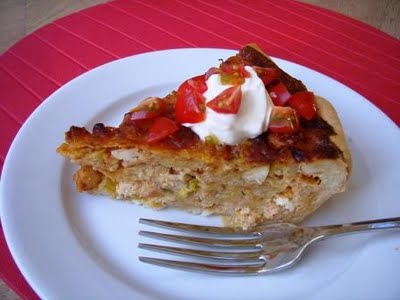 I just tried this recipe for the first time today, and it's a keeper! I found this recipe in a Pillsbury magazine, and only changed a few things

This quiche is everything that's good about chicken enchiladas–cheese, salsa, chicken, and chilies! Serve it warm, topped with sour cream and diced fresh tomato.
Ingredients:
1 pre-made refrigerated pie crust
4 eggs
1 cup milk
1 1/2 cup cooked chicken, diced (a store bought rotisserie chicken works well)
1 1/2 cup tortilla chips, broken into small pieces (but not completely crushed)
2 cups jalapeno jack cheese, shredded
1 cup sharp cheddar cheese, shredded
1 cup store bought salsa of your choice
1 can chopped green chilies
1 teaspoon ground cumin
1/2 teaspoon kosher salt
Fresh ground black pepper, to taste
Dash of Tabasco sauce (or more to taste)
Sour cream and diced fresh tomatoes for serving, if desired
Directions:
Pre heat oven to 350 degrees F.
Place pie crust in a 9 1/2-inch, glass deep-dish pie pan.
In a large bowl, whisk together eggs until blended.
Add milk and whisk until combined.
Stir in chicken, chips, jalapeno jack cheese, cheddar cheese, salsa, green chilies, cumin, salt, pepper, and Tabasco.
Pour mixture into pie crust and smooth top with spatula.
Bake uncovered 55-65 minutes, or until golden brown on top and a knife inserted in center comes out clean. (If top browns too quickly, loosely cover with tin foil for remaining baking time.)
Let stand 10 minutes before slicing.

Related Recipes