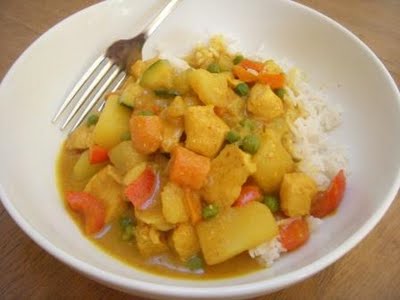 In the mood for something different? Then try this incredible chicken curry! It's bursting with flavor and fresh veggies, and tastes as good as anything you'll get in a restaurant. Serve with rice to soak up all the sauce. You'll find the ingredients in a grocery store's ethnic aisle.
Ingredients:
3 boneless skinless chicken breasts, cut into 1-inch pieces
2 teaspoons vegetable oil
2 Tablespoons curry powder
3 teaspoons red curry paste (this makes a medium-mild curry, so add or delete paste for more or less spice)
3/4 cup fresh carrots, diced
3/4 cup fresh zucchini, diced
3/4 cup fresh white onion, diced
3/4 cup fresh potato, peeled and diced
1/2 cup fresh red bell pepper, diced
1/2 cup frozen peas
1 can coconut milk
2 Tablespoons fish sauce
1 Tablespoon brown sugar
1 cup chicken stock
Directions:
Heat vegetable oil in a large non-stick saute skillet (or wok skillet), over medium-high heat.
Add chicken pieces and saute 8 minutes, stirring often to brown all sides.
Add curry powder and curry paste to skillet. Coat all chicken pieces and cook 2 minutes.
Add all vegetables to skillet (carrots thru peas) and saute 5 minutes. (Add a drop more oil if pan seems dry.)
In a bowl, whisk together coconut milk, fish sauce, brown sugar and chicken stock until well blended.
Pour sauce into skillet with chicken and veggies, and bring to a boil.
Reduce heat to medium. Cook on a high simmer for 20-25 minutes, until sauce slightly thickens and veggies are tender.
Serve hot, over rice.

Related Recipes