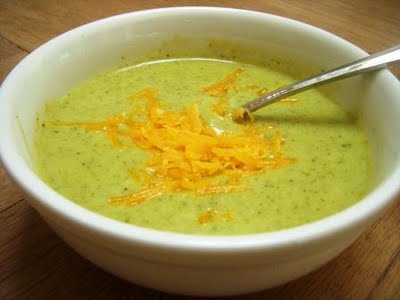 I had leftover broccoli in the fridge this week, so I came up with this soup recipe. I usually like to simmer a pot of soup all day–but with this recipe there's no need. This soup is rich, creamy, and flavorful in about 30 minutes. My son loves it and I love that he's getting veggies! This recipe makes a small batch (enough for 2-3 servings), so double the amounts if you want more. Tastes great with Cheesy Beer Bread!
Ingredients:
2 1/2 cups fresh broccoli, rinsed and cut into florets
1/4 cup white onion, diced
1/4 cup carrots, diced
2 cups chicken broth
1 cup milk
2 Tablespoons all-purpose flour
1 cup cheddar cheese, shredded
1/2 teaspoon ground nutmeg
Kosher salt and fresh ground black pepper, to taste
Directions:
Place a steamer basket in large saucepan. Fill saucepan with water until just touching the bottom of the steamer basket. Place broccoli, onions, and carrots in basket. Cover with lid and bring to a boil. Reduce heat and steam 8-10 minutes, until veggies are tender.
In a separate large saucepan, bring chicken stock to a boil. Add steamed vegetables.
Using a hand-held mixer, puree veggies in chicken broth. Continue boiling.
In a small bowl, whisk flour into milk until well combined.
Pour milk mixture into veggie mixture and stir well.
Cook soup, stirring constantly, until thick and bubbly (about 5 minutes).
Remove from heat. Add nutmeg, salt, pepper and cheddar cheese.
Stir well, until cheese is melted and incorporated. Top with additional cheese before serving, if desired.

Related Recipes