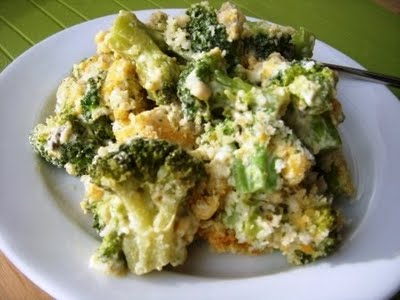 This side dish is so rich and creamy, that I save it for special occasions. It's a great way to dress up broccoli and goes well with just about any main dish–chicken, turkey, pork or fish. I created this recipe by looking at many versions of similar dishes and combining all the best ingredients. Hope you like it!
Ingredients:
30 oz frozen broccoli florets
1 can condensed cream of mushroom soup, undiluted
1 cup mayo
2 cups shredded sharp cheddar cheese
1 Tablespoon minced dried onion
1 teaspoon fresh squeezed lemon juice (do not use bottled)
Garlic salt and fresh ground black pepper, to taste
1 cup Japanese Panko bread crumbs
2 Tablespoons butter, softened
Directions:
Pre-heat oven to 375 degrees F.
Spray 9×13 glass baking dish with Pam cooking spray.
In a large bowl, whisk together mayo, soup, minced onion, and lemon juice until well mixed.
Fold in broccoli florets and cheese until well combined.
Season with garlic salt and black pepper to taste.
Spread broccoli mixture evenly into baking dish.
In a small bowl, combine Panko and butter until well combined. Evenly sprinkle mixture over broccoli dish.
Bake 30-40 minutes, until golden brown on top and heated through.

Related Recipes