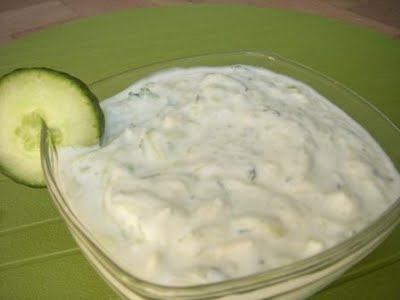 Perhaps you've tried Tzatziki at a Mediterranean restaurant before? I love it and was excited to discover how easy it is to make at home. This creamy, garlicky dip is best served chilled with toasted pita slices. Leftovers last a few days in the fridge (if it gets watery, just pour the water off the top and stir.)
Ingredients:
1 cup plain Greek yogurt
3/4 cup shredded cucumber (about 1 medium cucumber)
2 teaspoons fresh lemon juice
2 fresh garlic cloves, minced
Fresh ground black pepper, to taste
Directions:
Peel cucumber.
Shred cucumber into a bowl using a cheese grater.
Using paper towel, press out all moisture from shredded cucumber.
In a separate bowl, combine yogurt, lemon juice, garlic and black pepper. Mix until combined.
Fold in shredded cucumber.
Chill at least 2 hours before serving, allowing flavors to combine.

Related Recipes