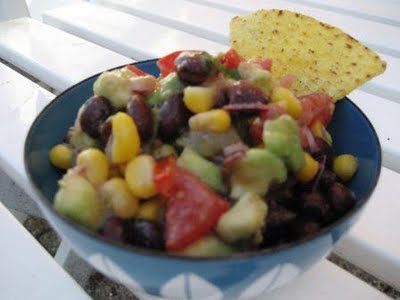 Skip the jarred salsa, break out the tortilla chips, and dive into this refreshing home-made salsa packed with fresh, healthy ingredients! Serve this salsa as an appetizer, or as a side dish paired with grilled shrimp or chicken. Simply delicious!
Ingredients:
2 cans (15-oz each) black beans, drained and rinsed
2 ears fresh corn on the cob
2 large tomatoes, seeded and chopped
1 small purple onion, diced
1/4 cup fresh cilantro, chopped
1 can diced green chilies
1 avocado, peeled, pitted and chopped
4 Tablespoons fresh lime juice (do not use bottled)
3 Tablespoons extra virgin olive oil
2 Tablespoons red wine vinegar
Kosher salt and fresh ground black pepper, to taste
Directions:
Leaving corn on the cob in husks, wrap each ear in 2 layers of wet paper towel. Microwave both ears together on high for 5-6 minutes. Allow to cool. Remove husks and cut corn from cob. Set aside corn and discard ears and husks.
In a large bowl whisk together fresh lime juice, olive oil and vinegar.
Fold in beans, corn, tomato, onion, avocado, cilantro and green chilies.
Season with salt and black pepper to taste. Toss to coat.
Cover and chill at least 2 hours before serving.

Related Recipes