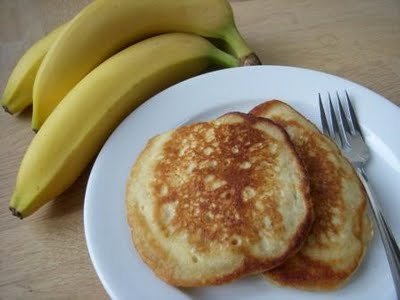 Next time you have an over-ripe banana, mash it up and add it to Bisquick batter for amazing pancakes! The base of this recipe is right off the Bisquick box–adding the banana and cinnamon is my own touch. Serve these pancakes warm, topped with butter, sprinkled with powdered sugar, and surrounded by sliced fresh bananas and strawberries.
Ingredients:
2 cups original Bisquick mix
1 cup milk
2 eggs
1 Tablespoon sugar
2 teaspoons baking powder
1 teaspoon cinnamon
1 medium banana, peeled and mashed with a fork
Vegetable oil
Butter
Additional fresh banana, strawberries, butter, and powdered sugar for serving, if desired
Directions:
Heat non-stick skillet over medium-high heat.
Add 1 teaspoon vegetable oil and 1 teaspoon of butter to skillet.
While skillet is heating, whisk together Bisquick, milk, eggs, sugar, baking powder, cinnamon, and mashed banana in a large bowl, just until moistened.
Poor slightly less than 1/4 cupfuls of batter onto hot skillet. Cook until small bubbles form on top and edges are dry.
Using a spatula, carefully flip each pancake over and cook on other side, until golden brown. (Note: only flip each pancake once–over flipping makes them tough.)
Continue cooking in batches until all batter is used. Add additional oil and butter to skillet between bathes as needed.

Related Recipes