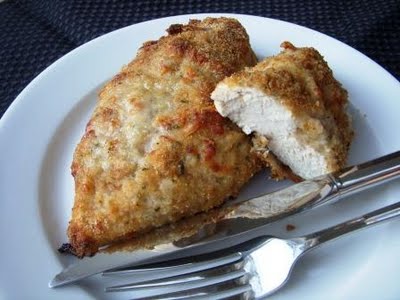 I've been making this recipe for years. The chicken always turns out moist and flavorful! If the recipe seems like an unusual mix of ingredients–trust me and give it a try. My husband hates yogurt, but loves this chicken

It's great paired with Oven Baked Wild Rice, Broccoli Cheese Bake, Oven Roasted Potatoes, Mushroom Rice, Roasted Garlic Lemon Broccoli or Rice, Broccoli & Cheese Cups.
Ingredients:
4 boneless, skinless chicken breasts
1/2 cup plain yogurt
1 Tablespoon cider vinegar
2 fresh garlic cloves, minced
1/2 teaspoon Tabasco sauce
1 cup Progresso Italian Bread Crumbs
1/4 cup fresh Parmesan cheese, shredded
2 Tablespoons extra virgin olive oil
Salt and fresh ground black pepper, to taste
Directions:
In a large shallow bowl, mix together yogurt, vinegar, garlic and Tabasco. Add chicken breasts and coat well. Cover bowl tightly.
Place covered bowl with chicken and sauce in refrigerator and marinate 4-6 hours. (This step makes the chicken so moist and flavorful!)
Once chicken is marinated, pre-heat oven to 400 degrees F.
In a large shallow bowl, mix together bread crumbs, Parmesan cheese, salt and black pepper to taste.
One at a time, remove chicken breasts from marinate and dredge in bread crumbs. Press breadcrumbs firmly on both sides of chicken to coat well.
Place breaded chicken breasts in a 9×13 baking dish, sprayed with Pam cooking spray.
Drizzle olive oil evenly over breaded chicken breasts.
Place in hot oven and bake 30-35 minutes, until cooked thru.
Let chicken set 5 minutes before serving.

Related Recipes