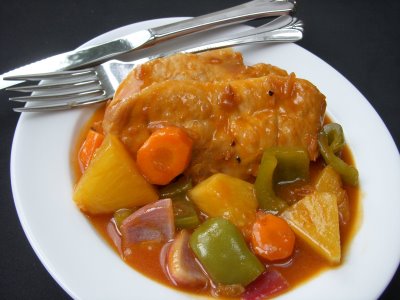 This recipe is so easy and so yummy! I originally got the recipe from my sister's mother-in-law, but I've changed it a bit. Serve over rice to soak up all the delicious sauce! Also good with chicken breasts, in place of pork chops.
Ingredients:
4 thick-cut boneless pork chops
1 1/2 cup Kraft Russian -or- French salad dressing (I prefer Russian, but it can be hard to find.)
1 cup apricot marmalade
1 packet Lipton Onion Soup mix
1 small green bell pepper, cut into 1-inch chunks
1 small purple onion, cut into 1-inch chunks
2 large carrots, thinly diced
1 cup fresh pineapple, cut into 1-inch chunks
Directions:
Pre-heat oven to 350 degrees F.
Spray 2.8 liter glass casserole dish with Pam cooking spray.
Add salad dressing, marmalade and soup mix to dish.
Whisk until very well combined.
Add pork chops to dish, and cover with dressing mix.
Bake covered in oven for 30 minutes.
Remove from oven and add in remaining ingredients (veggies and pineapple). Stir and return to oven, covered.
Bake an additional 30 minutes.
Remove from oven and stir before serving.

Related Recipes