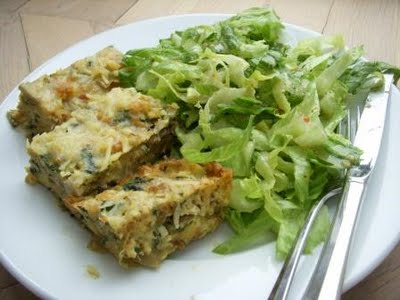 This hearty dish is a cross between a casserole and a quiche. Versatile enough to be served for both breakfast and lunch. Serve with a fruit salad for breakfast, or with a Mixed Salad with Balsamic Dressing for lunch. Stove Top Stuffing provides the bread and seasoning in one easy step. This makes a great take-along dish for pot-luck gatherings.
Ingredients:
1 Tablespoon extra virgin olive oil
1/4 cup red onion, diced
1/2 cup fresh mushrooms, cleaned and sliced
1/2 cup red peppers, diced
4 cups fresh spinach leaves, rinsed and torn into pieces
1 (6 oz) package Stove Top Stuffing Mix, chicken flavor
2 tablespoons fresh parsley, chopped
6 eggs
3/4 cup mozzarella cheese, shredded
1/2 cup fresh Parmesan cheese, grated
Fresh ground black pepper, to taste
Directions:
Pre heat oven to 375 degrees F.
Add olive oil to large non-stick skillet over medium-high heat.
Add onion, red pepper, and mushrooms to pan. Cook and stir for 6 minutes, or until softened. Stir in spinach leaves and set aside.
Prepare stuffing mix as directed on package, substituting chicken stock for water.
Stir spinach mixture into prepared stuffing, and add parsley.
Beat eggs in a large bowl with a whisk. Add stuffing mixture, Parmesan cheese, and black pepper to eggs and mix until well combined.
Pour into a greased 8-inch square baking pan.
Sprinkle with mozzarella cheese.
Bake, uncovered, for 35 minutes or until firm.
Cool 15 minutes. Cut into squares. Serve warm.

Related Recipes