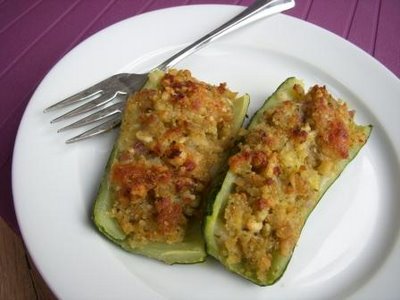 I created this recipe by combining many of my favorite flavors–freshsummer zucchini, fresh garlic, basil pesto, and 2 kinds of cheese. It's a little work to put it all together, but worth it in the end! Serve this pesto stuffed zucchini as a main course with a side salad. Or serve it as a side dish with Baked Chicken Breasts or Panko Pork Chops. Either way, it's delicious!
Ingredients:
2 large zucchini
1/4 cup yellow onion, diced
2 fresh garlic cloves, minced
2 cups store-bought croutons, garlic and herb flavor (small size croutons)
1 cup mozzarella cheese, shredded
1/3 cup fresh grated Parmesan cheese (the freshly grated cheese really stands out in this dish!)
1 heaping Tablespoon store-bought basil pesto
1 Tablespoon extra virgin olive oil, plus more if needed
Fresh ground black pepper, to taste
Directions:
Pre-heat oven to 400 degrees F.
Rinse zucchini and cut off both ends.
Slice both in half and lengthwise, making 4 pieces from each zucchini.
Using a spoon, carefully scoop out inside flesh of each zucchini piece, leaving a 1/4-inch "shell".
Dice zucchini flesh and set aside.
Over high heat, bring a large pot of water to a boil. Once rapidly boiling, add salt and zucchini "shells".
Boil "shells" for 2 minutes. Carefully remove with tongs and set on paper towel to drain and cool.
Add Tablespoon of olive oil to large non-stick saute pan, over med-high heat.
Add diced zucchini flesh, diced onion, and fresh ground black pepper to taste. Stirring often, saute 8 minutes, until very soft.
Add minced garlic to saute pan and cook for 30 seconds, stirring constantly.
Remove pan from heat and allow to cool 5 minutes.
While mixture is cooling, crush 2 cups of crouton cubes into fine crumbs.
Stir pesto into saute mixture until combined.
Stir crushed croutons into mixture until combined. (Add olive oil to taste, if mixture seems dry.)
Stir mozzarella and Parmesan cheese into mixture until just combined (don't over mix).
Using a spoon, generously scoop mixture evenly into cooked and cooled zucchini "shells". Gently press mixture into place.
Place shells (not touching each other) onto greased cookie sheet and bake uncovered in hot oven for 20 minutes, until golden brown on top. Serve hot.

Related Recipes