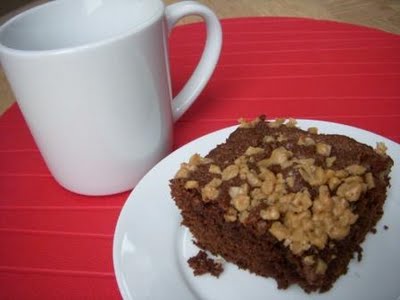 These fudgy treats come from Cooking Light magazine. They're fantastic! Especially with a hot cup of coffee or a cold glass of milk. And, if you cut them into 20 bars, each bar is only 150 calories. So enjoy!
Ingredients:
2 Tablespoons instant coffee granules
1/4 cup hot water
1/4 cup butter
1/4 cup semisweet chocolate chips
1 1/2 cup all-purpose flour
1 1/3 cup granulated sugar
1/2 cup unsweetened cocoa
1 teaspoon baking powder
1/2 teaspoon salt
1 teaspoon pure vanilla extract
2 large eggs
1/2 cup toffee chips
Directions:
Pre heat oven to 350 degrees F.
Coat bottom of 9-inch square backing pan with Pam cooking spray.
Combine coffee granules and 1/4 cup hot water, stirring until all coffee dissolves. Set aside.
In a small bowl, combine butter and chocolate chips. Microwave on high for 1 minute, or until butter melts. Stir until chocolate is smooth.
Lightly spoon flour into dry measuring cups and level with a knife. Combine flour, sugar, unsweetened cocoa, baking powder and salt in a large bowl. Stir with a whisk until well combined.
In a separate bowl, combine coffee, chocolate butter mixture, vanilla extract and eggs. Stir with a whisk until completely combined.
Add coffee mixture to flour mixture and stir until just combined. Do not over-stir.
Spread evenly into prepared pan. (Batter will be thick.)
Sprinkle evenly with toffee chips.
Bake 22 minutes. (Careful not to over-bake–you want the brownies gooey.)
Cool completely before cutting.

Related Recipes