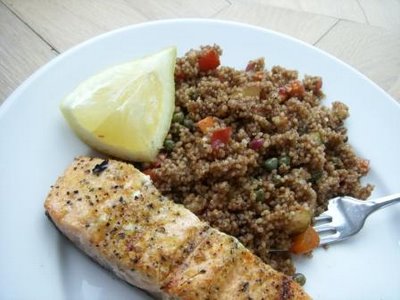 Here's a nutritious and delicious meal idea. My friend Missy served me a version of this couscous and now I'm hooked–the leftovers are equally yummy straight from the fridge the next day. You can also stir goat cheese into the couscous as a finishing touch. This recipe serves 4 people.
Ingredients:
4 fresh salmon fillets (if Europe has taught me anything, it's buy your fish fresh from a fish market!)
Lemon Pepper seasoning, to taste
2 cups cooked couscous (follow directions on package, but make with chicken stock instead of water)
1 cup zucchini, diced
1/2 red bell pepper, diced
1/3 cup red onion, diced
1/3 cup carrot, diced
1/3 cup celery
2 Tablespoons extra virgin olive oil (plus more, if needed)
2 garlic cloves, minced
2 Tablespoons fresh lemon juice (do not use bottled)
4 Tablespoons balsamic vinegar
1 1/2 teaspoons herbs de Provence
2 teaspoons ground garam masala (Indian spice found in most grocery store's spice aisle)
2 Tablespoons capers
1 teaspoon garlic salt (plus more for fish)
Fresh ground black pepper, to taste
Directions:
To make salmon, pre-heat gas grill on low heat. Season fish with lemon pepper and garlic salt to taste. Drizzle fish with olive oil. Grill fish, skin side down for 8-10 minutes. Carefully turn fish (using tongs) and grill skin side up for 5 minutes. Remove from grill and allow to set for 5 minutes (fish continues to cook off heat).
To make veggie couscous, heat 2 Tablespoons olive oil in large non-stick skillet over med-high heat. Saute zucchini, red pepper, onion, carrots, and celery in pan for 10 minutes, or until veggies are soft. Add in garlic and cook additional 30 seconds. Add in lemon juice and balsamic vinegar and simmer for 1 minute. Lower heat and stir in herbs de Provence, garam masala, garlic salt, black pepper, and capers. Mix in cooked couscous, stirring until combined. (If mixture seems dry, add in additional olive oil).

Related Recipes