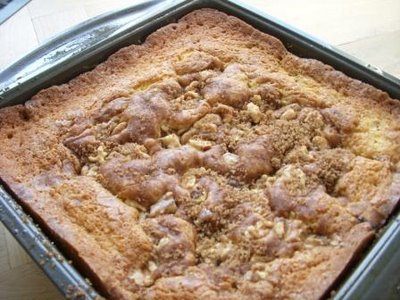 Next time you have fresh blueberries to use up, skip the standard muffin, and try this incredible coffee cake recipe! I pulled this recipe from a magazine years ago, but don't remember the exact one. This is not a low fat or low cal recipe–but I believe if you eat in moderation, you can enjoy the occasional sweet. And this coffee cake is worth it!
Ingredients:
1/2 cup unsalted butter, softened
3/4 cup sugar
2 eggs
1 teaspoon pure vanilla extract (not imitation)
1 cup all-purpose flour
1 teaspoon baking powder
1/4 teaspoon baking soda
1/4 teaspoon salt
1/2 cup sour cream (full fat bakes and tastes the best!)
1/2 cup brown sugar, packed
1 teaspoon cinnamon
1 cup chopped pecans
1 cup fresh blueberries, rinsed
Directions:
Pre-heat oven to 350 degrees F.
Spray a 9×9 metal baking pan with Pam cooking spray.
In a large bowl, cream together butter and sugar with a mixer, until light and fluffy (about 4 minutes).
Add eggs and vanilla to bowl and beat with mixer until combined.
In a separate bowl, whisk together flour, baking powder, baking soda, and salt.
In a third bowl, mix together brown sugar, cinnamon, and pecans.
Add half the flour mixture to creamed mixture and beat with mixer. Then add half the sour cream and beat again. Repeat with flour and beat. Repeat again with sour cream and beat until smooth.
Pour half the batter into prepared pan. Evenly cover with blueberries and half the cinnamon and nuts mixture.
Dollop remaining batter on top and carefully spread out to edges of pan with spatula.
Top with other half of cinnamon and nuts mixture.
Bake 35 minutes, until brown on top, and a toothpick inserted in middle comes out clean.

Related Recipes