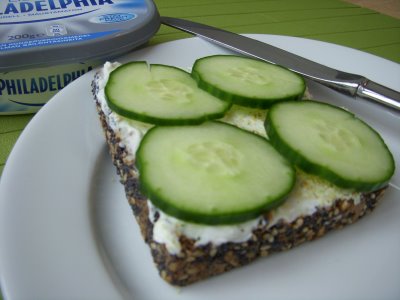 Living in Europe has opened my eyes to new ways of thinking about breakfast. Many Europeans believe Americans eat too much sugar first thing in the morning (doughnuts, pancakes with syrup, waffles, french toast, sugar cereal…the list goes on). A typical European breakfast involves bread, cheese, eggs, often deli meat, veggies (like cucumbers, tomatoes) and maybe fruit. I have thus been inspired to create this breakfast sandwich. I now eat this almost every morning. Give it try and see what you think!
Ingredients:
Multi-grain bread or dark rye bread
Fresh cucumber slices
Cream cheese
Garlic salt
Directions:
Toast bread slices to desired darkness.
Spread with cream cheese.
Sprinkle with garlic salt.
Top with cucumber slices. Enjoy!

Related Recipes