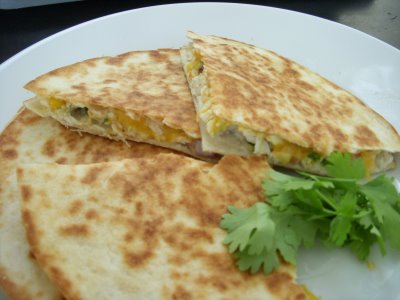 In the mood for Mexican? Skip the restaurant, and make these delicious quesadillas right at home! I recently tested this recipe on friends and received two thumbs up–hope you like it too. Makes 4 quesadillas.
Ingredients:
1/3 cup mayo
2 Tablespoons sour cream
1 teaspoon Tabasco
2 cups cooked, shredded chicken breast
1/4 cup red onion, diced
1/4 cup fresh cilantro, chopped
1/3 cup frozen corn kernels, thawed
1/3 cup black beans, drained and rinsed
1 can diced green chilies, drained
2 cups sharp cheddar cheese, shredded
8 (12-inch) whole wheat tortillas
Directions:
Whisk together mayo, sour cream, and Tabasco in a large bowl.
Add in chicken, onion, cilantro, corn, beans, and green chilies. Toss to combine. Season with salt and pepper to taste.
Heat large non-stick skillet over medium heat for 1 minute. Spray with Pam cooking spray.
Place 1 tortilla in skillet and sprinkle with 1/2 cup shredded cheddar cheese. Scoop 3/4 cup chicken mixture evenly over cheese.
Place another tortilla on top and press together with a large spatula. Spray top of tortilla with Pam.
Cook about 4 minutes. Then using large spatula, carefully flip over. Cook another 4 minutes, until both sides are golden brown.
Transfer to large plate and cut into 4 pieces using a pizza cutter.
Repeat cooking directions to make additional 3 quesadillas.

Related Recipes