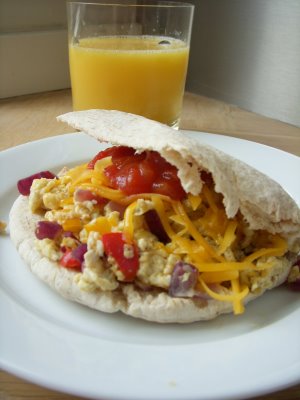 No need for fast food drive-thru in the morning. Plan an extra 15 minutes when you wake up to make and enjoy this delicious and healthy alternative. Pair it with a glass of OJ and you're getting both fruits
and
veggies at the start of your day!
Ingredients:
2 eggs (1 egg and 1 egg white)
1/4 cup diced sweet red pepper
1/4 cup diced red onion
1 Tablespoon shredded cheddar cheese
1 Tablespoon store-bought salsa of your choice
Fresh ground black pepper and garlic salt to taste
Dash of Tabasco for a kick (optional)
1 medium size whole wheat pita
Pam cooking spray
Directions:
Spray small frying pan with Pam cooking spray.
Saute peppers and onions over medium heat for 5 minutes, until tender.
Add 1 complete egg and 1 egg white to hot pan with peppers and onions. Immediately beat eggs into mixture with a fork.
Continue scrambling and cooking egg mixture to desired doneness. Add garlic salt and black pepper to taste, and Tabasco if using.
Remove from heat, keeping eggs warm in pan.
Toast pita.
Slice open warm pit and scoop in egg mixture.
Top with shredded cheese and salsa.

Related Recipes