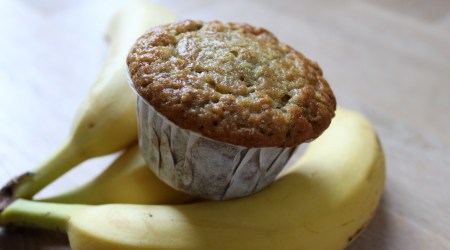 After trying many banana nut muffin recipes, this one is hands down my favorite! I have added a secret ingredient to make it my own. These are best served warm from the oven, with a smear of butter. Store in a tightly covered container in the refrigerator for up to 3 days. These muffins also freeze well.
Ingredients:
2 cups all-purpose flour
3/4 teaspoon baking soda
1/2 teaspoon salt
1 cup sugar
1/4 cup butter, softened
2 large eggs
3 mashed ripe bananas
1/3 cup vanilla yogurt
1 teaspoon vanilla extract
1 teaspoon almond extract (secret ingredient–well, I guess it's no longer a secret!)
1 cup walnuts, coarsely chopped
Directions:
Pre-heat oven to 350 degrees F.
Lightly spoon flour into dry measuring cups, level with a knife. Using a whisk, combine the flour, baking soda, and salt in a bowl.
In a separate large bowl, beat the sugar and butter with an electric mixer at medium speed, for about 2 minutes.
Add eggs (one at a time) beating well after each one.
Add banana, yogurt, vanilla, and almond extract. Beat until just blended.
Add flour mixture and beat at low speed until just moist. (Do not over mix or the muffins will be tough.)
Fold in walnuts.
Spoon batter evenly into a 12 cup muffin tin, lined with paper liners. Bake for 25 minutes, until a toothpick inserted in center comes out clean. Cool on a wire rack.

Related Recipes